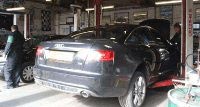 Around 30% of vehicles fail the MOT test every year! Avoid easily preventable MOT failures by carrying out a series of simple checks. Although these checks do not guarantee the car will pass, they will help avoid easily preventable MOT failures.
Don't want to go through the hassle? Click here to make passing the MOT test really easy!
Tyres: Check all the tyres are inflated to the correct pressure, and there is at least 1.6mm of tread across the 3/4 of the tyre. Ensure there are no bulges, lumps or cuts. Though the spare tyre is not part of the test, carrying a correctly inflated and legal tyre / wheel can help.
Lights: Check that all lights are working correctly and the lens / casing is not cracked. Also confirm that all indicator lights flash when the hazard light switch is selected both with the ignition on and off.
Suspension and Brakes: Test your suspension by applying your weight to each corner of the car and then releasing. The car should settle down quickly. Also ensure smooth operation of the foot brake and handbrake.
Exhaust & Emissions: Emission checks are a vital part of the test. Regular servicing can greatly reduce emissions. Start the engine and listen for excessive noise from the rear of the vehicle. That could indicate an exhaust leak.
Horn: Check whether your horn sounds correctly and is not a two tone type horn.
Registration Plate: Make sure that your registration plate is not cracked, securely fastened and not obscured and the letters are of the correct size and spacing.
Vehicle Identification Number: Ensure that your Vehicle Identification Number is displayed.
Seats and Seat belts: Check whether the front seats and rear seat backs can be secured in the upright position and whether seat belts fasten and unfasten correctly.
Mirrors: Mirrors should be fitted in as per requirements and should be usable.
Wipers and Washers: Make sure the washer bottle is full of liquid and the wipers are not damaged.
Windscreen: Check your windscreen or chips and cracks. In the area in front of the driver a chip cannot be bigger than 10mm while in other areas swept by the wipers damage cannot be more than 40mm.
Petrol Cap: Confirm that the seal around the petrol cap area fits properly and is not worn.
On the day of your MOT test, ensure that you've washed your vehicle and there is enough fuel! (Many are sent off to fuel up their vehicle as it will be running for at least half an hour in the test). Take along your previous MOT even if it has expired. If it is the first MOT, remember to take along your registration document.
If you are not confident in carrying out these checks yourself or would like to leave it to experts, contact Clover Autos for advice on MOT preparation.
Further Reading